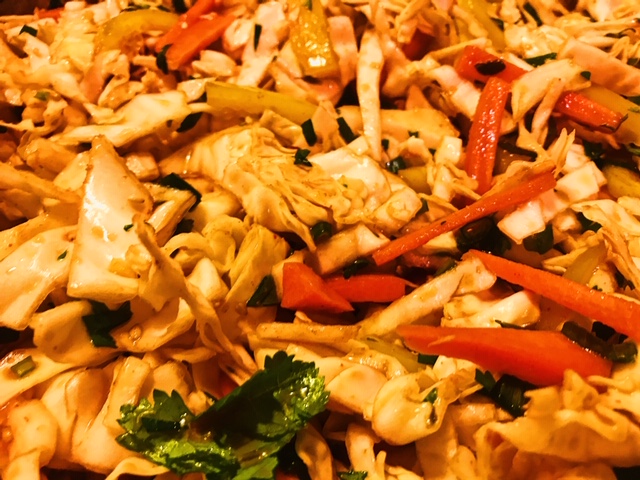 I made this Vegetarian Gochujang Recipe one weekend when we were making some Korean tacos. This Gochujang Slaw is the perfect topping for the tacos. The Vegetarian Gochujang Recipe provides amazing texture and flavor to the tacos! This Vegetarian Gochujang Recipe can be paired with many dishes and is great as a side dish! I love the flavor of Gochujang, and this is a healthy way to enjoy it!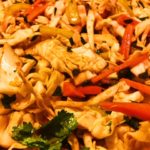 Print
Gochujang Slaw
Ingredients
Slaw Ingredients:
1

head of Napa cabbage julienned / cut into thin short strips

1

carrot cut into matchsticks

1

bunch of scallions chopped

(green parts only)

1

yellow bell pepper cut into thin strips and halved

1

jalapeno pepper chopped

3

red radishes cut into matchsticks

1

Handful of cilantro leaves chopped
Dressing Ingredients:
2

teas

fresh grated ginger

Juice of 2 limes

2

T

gochujang paste

2

T

reduced sodium soy sauce

2

T

honey

2

T

sesame oil

1

T

sesame seeds

4

T

rice vinegar

1/2

teas

sea salt
Instructions
Place all slaw ingredients in a large bowl and mix to combine. read more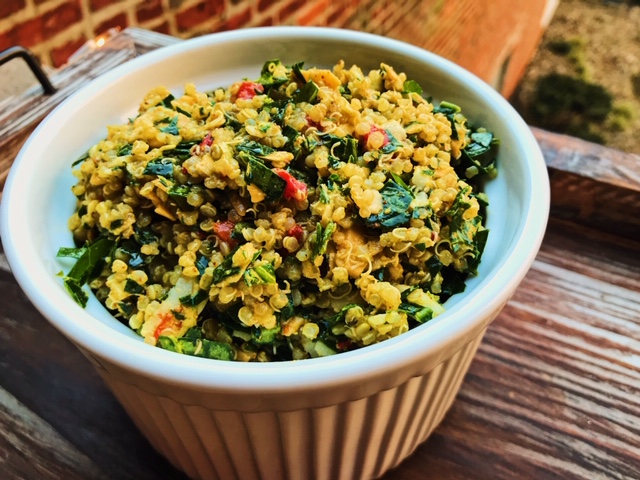 This Healthy Pimento Cheese Recipe is delicious and will fulfill your pimento cheese craving in the form of a quinoa salad! Pimento cheese is one of my favorite snacks ever since I discovered it during a trip to Charleston, SC! I always crave it and wanted to come up with a Healthy Pimento Cheese Recipe. In making this recipe, I basically put a lot of the spices that I would include in a pimento cheese dip within the dressing, and incorporated quinoa and a lot of collard greens to give it a healthy boost! Pimento cheese has been on my mind and wanted to enjoy a health version of it. I love this Healthy Pimento Cheese Recipe and know that you will love it too – my fellow Pimento Cheese lovers!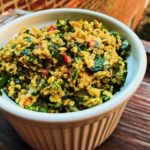 Print
Pimento Cheese and Collards Quinoa Salad
Ingredients
1

cup

quinoa uncooked

1

garlic clove crushed

1

bunch of collard greens finely chopped

1

4 oz jar of diced pimento peppers drained*

1

4 oz sharp cheddar cheese grated**

1

4 oz Monterey jack cheese grated**
Dressing Ingredients:
3

T

extra virgin olive oil

1

T

apple cider vinegar

1

Juice of a Meyer lemon***

A Few

splashes of Frank's hot sauce****

2

teas

Country Dijon mustard*****

2

teas

honey

1/2

teas

sea salt

1/2

teas

black pepper

1/2

teas

hot smoked paprika

1/2

teas

sweet paprika

1/2

teas

onion powder

1/2

teas

garlic powder

1/2

teas

chili powder
Instructions
Cook quinoa according to package directions, but with adding a garlic clove crushed before you put the lid on it to cook. read more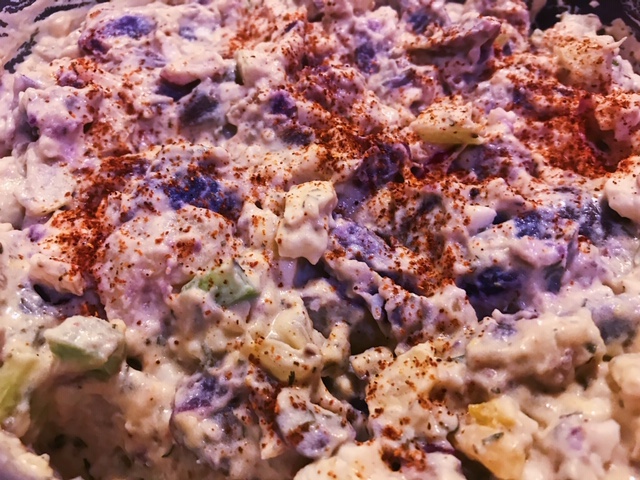 I have never had tried Purple Potatoes until I received some in my Misfits Market delivery. Now, I love them! Purple Potatoes are pretty, colorful and they taste very similar to red potatoes. One weekend, we were making some sandwiches and wanted some potato salad as a side dish, so I decided to experiment with the Purple Potatoes. This Purple Potato salad turned out amazing and I know you will love them as much as we did! It would be a great dish to bring to a picnic, barbecue or an outdoor party!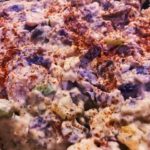 Print
Purple Potato Salad
If you have some Purple Potatoes on hand, try this Purple Potato salad! It is amazing and I know you will love them as much as we did! read more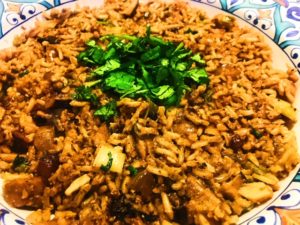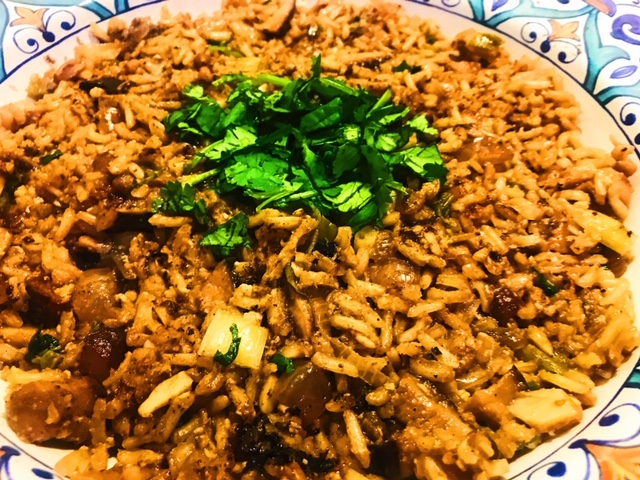 Early in December, I went to Miami with one of my best friends (whose also a Jennifer) that I have known since high school. We went to Miami for the Philadelphia Eagles vs. Miami Dolphins game (Eagles lost, which was sad), and for Art Basel (which was amazing). Our Jenny-squared trip was a blast!
While we were in Miami, we went to this awesome restaurant Myn-Tu. The food was delicious, and the atmosphere was exclusive and fun! We had this Truffle Rice dish while we were there, and we loved it!
When I came back, I missed Miami and kept on thinking of this Truffle Rice!  I wanted to try to make a Truffle Rice recipe of my own!  I went for it and made some for me and my neighbor, Stacy, while watching another Eagles game (thankfully they won that one!). We both loved this Truffle Rice dish! If you are a fan of truffle flavor and mushrooms like we are, you will love this recipe too!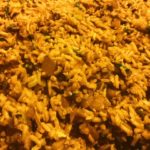 Truffle Mushroom Rice
Ingredients
1

cup

uncooked brown rice*

2

cups

Vegetable or Chicken Broth**

3

cloves of garlic smashed

2

teas

olive oil

8

oz

shiitake mushrooms coarsely chopped (or a medley with shiitake)

1

large yellow onion chopped

1/2

cup

chopped scallions (green onions, both green and white parts)

5

cloves of garlic chopped

1

T

olive oil

1

T

black truffle oil***

1/2

teas

sea salt

1/2

teas

black pepper

1/2

cup

sherry

1/4

cup

reduced sodium soy sauce

1

T

rice vinegar

1

egg lightly beaten

1

handful of cilantro leaves coarsely chopped

Additional truffle zest and truffle oil for topping when you serve
Instructions
Cook the rice: Cook rice according to package directions and use the broth instead of the water to cook the rice. When you add the rice to the boiled broth to cook, also add the 2 teas of olive oil and the smashed garlic cloves. Cook the rice ahead of time and let cool at least to room temperature before you begin making the rice dish. *****

Heat 1 T olive oil and 1 T truffle oil in a wok over medium high heat (for about a minute).

Add yellow onions, salt, and pepper and sauté for 2 minutes (until the onions start to brown).

Add mushrooms, sauté for a minute stirring constantly.

Then add the ¼ cup of sherry.

Stir to combine, then turn the heat down to medium.

Add the remaining ¼ cup of sherry, and sauté for 5 minutes.

Turn down to medium low and add the garlic and sauté for 2 minutes.

Add the soy sauce, rice vinegar, scallions and truffle zest and cook for 2 more minutes.

Turn the heat back up to medium high and add the rice.

Stir to combine and then pat the rice down and let cook for about 25-30 seconds.

Then mix around and pat the rice down again and cook for about 25-30 seconds.


Repeat the above 2 more times.

Then shove the rice to the side and add the egg (if you are adding egg, if not skip below to step 16).

Let the egg cook for about 20 seconds, then scramble and mix with the rice.

Then do the same process where you pat the rice down like in steps 11 and 12 and do that 2-3 more times.

Take the wok off the heat and fold in ¼ cup of the cilantro.

Serve with finishing off with toppings (truffle oil, truffle zest, cilantro, and siracha (optional, but delicious if you like spicy).
Notes:
* I used Rice Select's Jasmati for the brown rice.
** The vegetable or chicken both is to be substituted for the water used to cook the rice. This will likely be around 2 cups, but be sure to use the amount that is equivalent to the amount of water that is required per directions on rice.
*** I used Wegman's brand for the Black Truffle Oil.
**** I used Sabatino Tartufi for the Truffle Zest.  This stuff is the best! It tastes great on so many dishes like avocado toast, eggs, pizza, pasta. I got mine at Di Bruno Bros. (the best place in Philly for Cheese and Specialty Italian products!)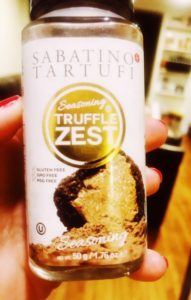 ***** For the rice, cook the rice ahead of time (to allow the rice to cool)! If you use the hot rice at the time it is done cooking, it would make the rice mushy and you do not want that!  You can either cook it a few hours before you make the recipe. Or you can make it the night before.  Then, take it out of the refrigerator when you are ready to start cooking.
Food Prep Tips:
Be sure that you prep and cut all your veggies before you start cooking this dish. This is a hands-on recipe, and as it goes quick and you likely won't have any time or hands to prep while you cook. You can also have it all prepped ahead of time during a food prep session on a weekend day, and then you can make it as a fast weeknight meal.
Also be sure to check out some of my other mushroom recipes: Instant Pot Philly Cheese 'Shroom Risotto and Instant Pot Mushroom Risotto with Spinach, Manchego Cheese and Cilantro Lime Crema.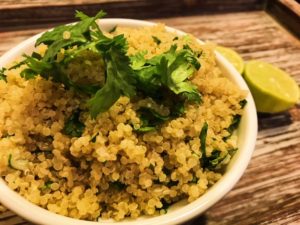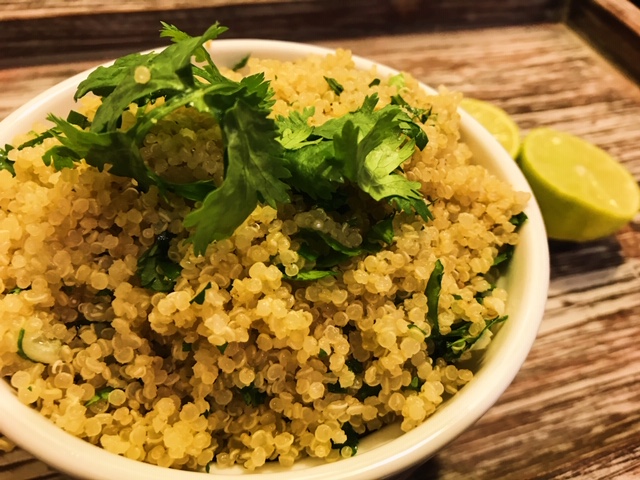 I love Chipotle! And I love their cilantro lime rice! I received a lot of limes from Misfits Market and I wanted to make a healthy Quinoa Side Dish variation of their cilantro lime rice.  This Quinoa Side Dish turned out great and reminded me of Chipotle's cilantro lime rice. This made me very happy!  And a bonus is that this recipe is very easy to make. I made this recipe during a food prep session on a Sunday and was able to use this Quinoa Side Dish is a variety of meals during the week.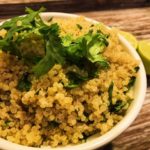 Cilantro Lime Quinoa
If you love Chipotle's cilantro lime rice, you will love this Quinoa Side Dish as a healthy version. This is a perfect recipe to make during a food prep session as you can use it for a variety of meals!
Ingredients
1

cup

quinoa (uncooked)

1

T

olive oil

1/2

teas

salt

2

garlic cloves smashed

Juice of 2 limes

Big handful of cilantro leaves/stems coarsely chopped
Instructions
Cook quinoa according to package directions (with regards to time, heat, amount of water, etc.) and before you cover the quinoa to cook, add in garlic, olive oil and salt.

When the quinoa is done, fluff with a fork and then fold in the cilantro.

Serving Ideas: use this Quinoa recipe in your healthy burrito bowls, salads, tacos, enchiladas, burritos, or as a side.
When I made this Quinoa Side Dish one week during a food prep session, I used it in salads for a few lunches and made burrito bowls for dinner.  For the burrito bowls and salads, I also incorporated my Fiesta Beans recipe with these meals.
Food Prepping Sessions: along with this Quinoa Side Dish, also make ahead some Fiesta Beans, guacamole, and salsas.
Check out my recipes for salsas that you can make during this food prep: Restaurant Style Chipotle Salsa, Fresh Corn Salsa, Fresh Pico De Gallo Salsa.
If you are interested in receiving organic produce at your door yourself and want to order Misfits Market, email me for a discount code.
Copyright © 2020 Healthy Eats by Jennie