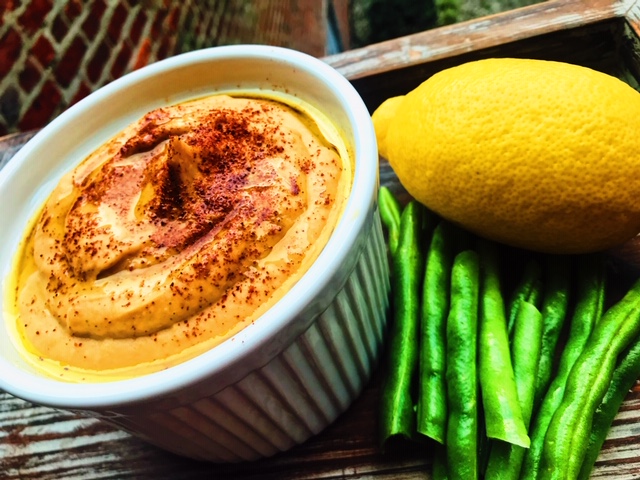 In my organic delivery box from Misfits Market, I received a lot of parsnips! Typically, when I make parsnips, I roast them along with other veggies. Parsnips are also delicious in soup recipes and as a substitute for mashed potatoes. But I wanted to experience parsnips in a different way this time, so I thought that incorporating the roasted parsnips within a hummus dip would make for an amazing Parsnip Recipe! Roasting parsnips brings out the sweetness in them, which brings a touch of sweetness to the Parsnip Recipe.  Pair this Parsnip Recipe with pretzels or tortilla chips as a healthy way to fulfill your sweet and salty craving!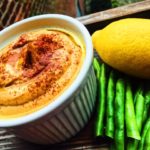 Print
Roasted Parsnip Hummus
Ingredients
Roasting Phase Ingredients:
5-6

cups

parsnips peeled and cut into 1-inch pieces (4 large parsnips)

1

large red onion cut into chunks (peeled, cut in half, and then cut each half into about 4-6 pieces)

8

cloves of garlic

2

T

extra virgin olive oil

1/2

teas

salt

1/2

teas

black pepper

Cooking spray
Blender Phase Ingredients:
1 ½- 2 ½

cups

water

1

15.5 oz can of chickpeas drained

1/2

teas

salt

1/2

teas

black pepper

1

teas

cumin

1/2

teas

hot smoked paprika

1/2

teas

sweet paprika

Juice of 2 large lemons or 4 small lemons

1/2

teas

crushed red peppers

2

teas

fresh thyme

3

T

extra virgin olive oil
Instructions
Check out one of my favorite hummus recipes!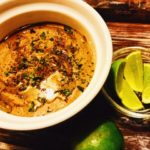 Black Bean Hummus
Who says snacking can't be healthy? This Healthy Vegan Snack Recipe fulfills the need for snacking while keeping it healthy. It is delicious, healthy and will satisfy your snacking needs. You can make this Healthy Vegan Snack Recipe and pair it with pita chips, sweet potato fries, tortilla chips, carrots, or use it within a veggie taco.
Ingredients
15.5

oz

can black beans rinsed and drained

Juice of 2 limes

1

T

ancho chipotle pepper adobo chili paste

I used Wegman's brand

1

teas cumin

1

garlic clove

2

T

tahini

1

T

olive oil

plus a little extra to drizzle on top if desired

½

cup

water
Instructions
Put all ingredients in a blender or food processor and blend until smooth and creamy.
Recipe Notes
I used my Vitamix blender when I made this. You can also put garnish for serving as shown in the picture with chili powder and parsley (or you can use paprika and cilantro).  If you cannot find the chipotle chili paste, you can substitute with the adobo sauce from the canned chipotle peppers in adobo sauce, and you can even throw in a chipotle pepper for more spice and chipotle flavor if desired. But I do recommend the paste, since it is a great ingredient to have on hand.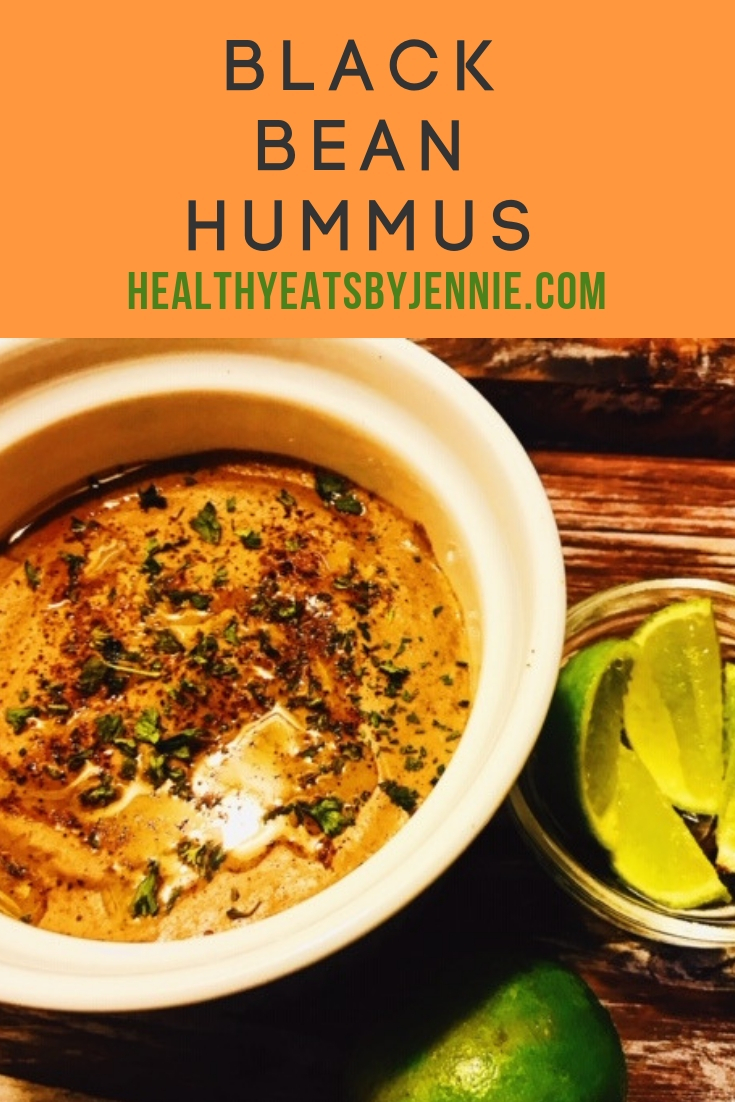 Caramelized Onion Hummus

Prep time: 5 minutes
Cook time: 1 hour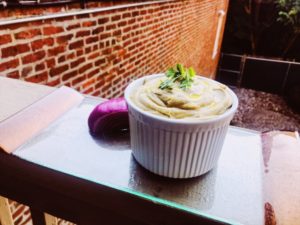 I love making different variations of Hummus! I also really love caramelized onions! I thought it would be a great idea to put them both together for a delicious Hummus treat! Turned out that I was right – this is amazing! This Hummus tastes great with grilled pita bread.
Ingredients:
2 large red onions coarsely chopped
2 T olive oil
½ teas salt
½ teas black pepper
½ cup dry white wine
1 15.5 oz can of chick peas drained and rinsed
¼ cup tahini
3 T lemon juice
1 cup of water
¼ cup cilantro leaves
1 T olive oil
Directions:
On medium-high heat in frying pan, sauté olive oil, onions, salt and pepper for 5 minutes (make sure you stir so the onions don't burn).
Reduce to medium and sauté for 10 more minutes (stirring occasionally – every few minutes).
Add wine and reduce for 5 minutes (stirring occasionally).
Reduce to low and let it continue to caramelize for 30 minutes (stirring occasionally).
When onions are done, then add the onions and all ingredients to blender or food processor. (Vitamix makes the perfect Hummus!)
Notes:
I find that Hummus is best served at room temperature. After you keep it in the refrigerator for a while, take hour about a half hour before you want to eat it. Or if you can wait that long, you can pop it in the microwave for about 30-45 seconds.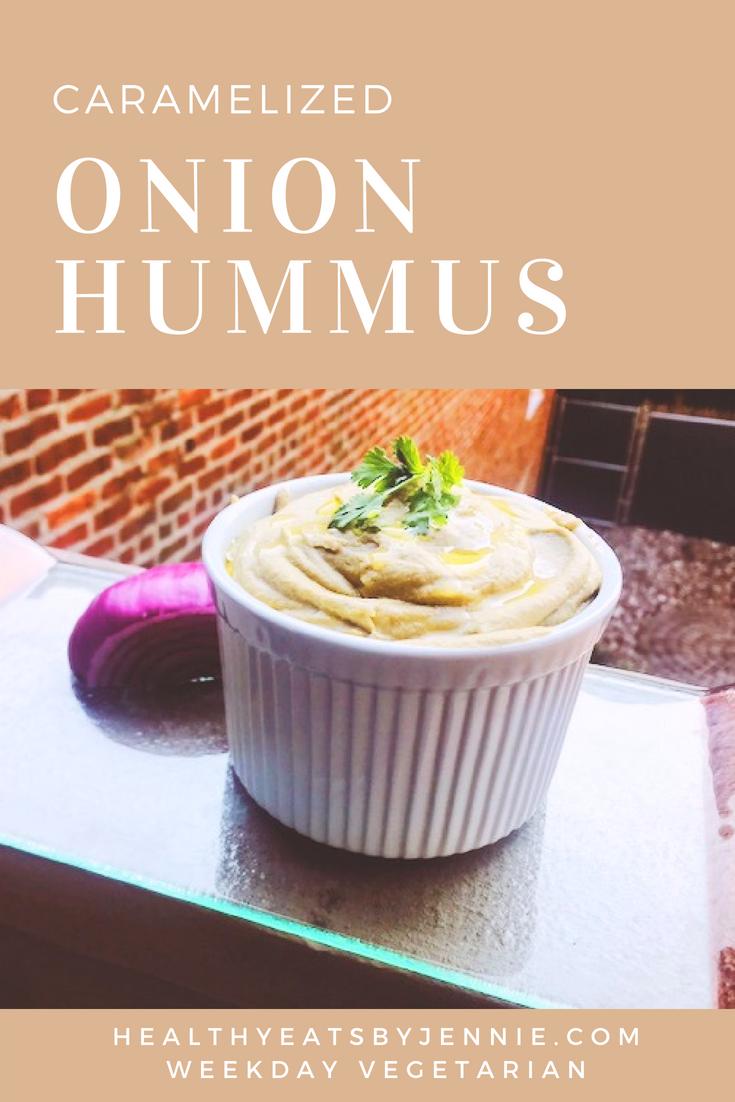 Italian White Bean Hummus

Prep time: 10 minutes
Cook time: N/A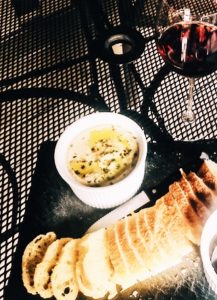 This Hummus Recipe is an Italian twist on the classic Hummus Recipe! This Hummus Recipe tastes great with Fresh Italian Bread (mine was from my favorite Italian bakery – Aversa's in Brigantine, NJ). I also had some fresh parsley and oregano that I used in this recipe, that came right from my sister Becky's garden in Brigantine! This recipe makes a lot, so you can use this Hummus Recipe to make for a crowd! Or this can be great to include on a Meatless Monday to use throughout the week for snacks, sandwiches, wraps and lunches throughout the week! If you have a Vitamix – I would say definitely use it to make this recipe – it is absolutely perfect for making Hummus!
Ingredients:
1 15.5 oz. can of garbanzo beans (rinsed and drained)
1 15.5 oz. can of great northern beans (rinsed and drained)
1 teas fresh parsley
1 teas fresh oregano
2 T lemon juice
2 T olive oil
3 T tahini
¼ teas black pepper
¼ teas crushed red peppers
½ teas salt
¾ cup water
Directions:
Place all ingredients in a blender or food processor (I recommend the Vitamix).
Blend until smooth and creamy
Transfer to a serving plate and garnish with olive oil, parsley and crushed red peppers (if desired).
Serve with bread, pita chips, veggies, crackers, etc., or use in a sandwich or wrap.
Copyright © 2020 Healthy Eats by Jennie