Italian White Bean Hummus
Prep time: 10 minutes
Cook time: N/A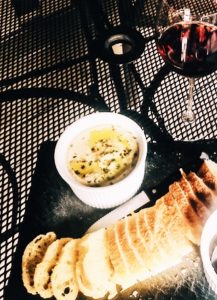 This Hummus Recipe is an Italian twist on the classic Hummus Recipe! This Hummus Recipe tastes great with Fresh Italian Bread (mine was from my favorite Italian bakery – Aversa's in Brigantine, NJ). I also had some fresh parsley and oregano that I used in this recipe, that came right from my sister Becky's garden in Brigantine! This recipe makes a lot, so you can use this Hummus Recipe to make for a crowd! Or this can be great to include on a Meatless Monday to use throughout the week for snacks, sandwiches, wraps and lunches throughout the week! If you have a Vitamix – I would say definitely use it to make this recipe – it is absolutely perfect for making Hummus!
Ingredients:
1 15.5 oz. can of garbanzo beans (rinsed and drained)
1 15.5 oz. can of great northern beans (rinsed and drained)
1 teas fresh parsley
1 teas fresh oregano
2 T lemon juice
2 T olive oil
3 T tahini
¼ teas black pepper
¼ teas crushed red peppers
½ teas salt
¾ cup water
Directions:
Place all ingredients in a blender or food processor (I recommend the Vitamix).
Blend until smooth and creamy
Transfer to a serving plate and garnish with olive oil, parsley and crushed red peppers (if desired).
Serve with bread, pita chips, veggies, crackers, etc., or use in a sandwich or wrap.