This Manchego Cheese Spring Mix Salad Recipe is simple, easy to make, and is a great pairing for your main Spanish dish. This reminds me of one of my favorite restaurants – Amada in Philadelphia since I always get the Manchego Cheese with Truffle honey selection. This is a great salad to accompany Spanish Tapas.
Simple Salads are the best! This Spring Mix Salad Recipe is different than my usual posts, where no measurements are included. Depending on how many servings you are making and what your tastes are, you can adapt it as necessary.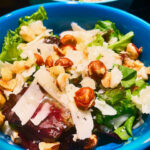 Manchego Cheese Spring Mix Salad
This Manchego Cheese Spring Mix Salad Recipe is simple, easy to make, and is a great pairing for your main dish and to accompany Spanish Tapas.
Ingredients
Salad Base: *
Spring Mix

Freshly squeezed lemon juice

Extra virgin olive oil (good quality)

Salt

Course ground black pepper
Toppings: **
Manchego cheese shaved

Hazelnuts chopped

Truffle honey (drizzle)
Instructions
Start by putting the greens in a mixing bowl.

Then add the lemon juice and olive oil.

Then sprinkle salt and pepper to taste.

Toss until well combined.

Portion the salad into side salad bowls or on the plate along with your main dish.

Sprinkle toppings onto each portion of the plated salad base.
Manchego Cheese Spring Mix Salad Recipe Notes:
Salad Base Notes: *
For the greens – I used spring mix. This spring mix salad recipe can be varied with any type of leafy green, such as spinach, kale, baby kale, arugula, romaine, etc.
For the salt, I usually use either Sea Salt or Pink Himalayan Sea Salt.
For 2 servings, I used:
2 large handfuls / cups of Spring Mix
Juice of half of the lemon
½ T of olive oil
Notes for Toppings: **
For the Truffle Honey, you do not need a lot for each salad. Just simply drizzle about ¼ teas on each serving
Notes for Instructions: ***
The lemon juice and olive oil should together lightly dress the greens. If you end up putting in too much, then you can add more greens to the bowl to balance it out. If it is not dressed enough, then add a little more as you prefer.
When adding toppings, include the toppings on the individual servings rather than tossing together within the bowl. This will allow you to properly portion over each serving.
Pairings:
Simple salads pair nicely with any main dish. This simple salad pairs well with a Spanish main or Spanish tapas.
I paired this salad with Spanish Garlic Shrimp.
We are focused on doing low carb / keto meals lately to lose pounds gained during Covid times and working from home. When doing low carb / keto meals, including a simple salad to accompany your main dish is key.
Food Prep:
This comes together easily and quickly and can be done right before your meal. I usually prepare the salad while the main dish is cooking.
Other Recipes:
Here are some other of my salad recipes that you can check out: Apple Blue Cheese Chopped Salad, Strawberry Spring Mix Salad, Irish Salad, Simple Arugula Salad, Korean Simple Salad, Green Bean Salad with Manchego Cheese and Truffle Honey White Balsamic Vinaigrette, Green Beans and Burrata Salad, Salad with Carrot Orange Ginger Miso Dressing, Arugula Salad with Lime Tahini Ginger Dressing, and Blueberry Arugula Salad with Fresh Lemon Vinaigrette.
Misfits Market:
Most of my produce that I use in my recipes are organic and from Misfits Market.
If you want to receive amazing organic produce at your door from Misfits Market, you can use my discount code: COOKWME-MB4HQY
Lurvz Kitchen Utensils:
The Lurvz Silicone Kitchen Utensil set has several tools that are great for serving and mixing salads! The color is beautiful as well.
Use my discount code JENNIE11 for 11% off on Amazon to get your own.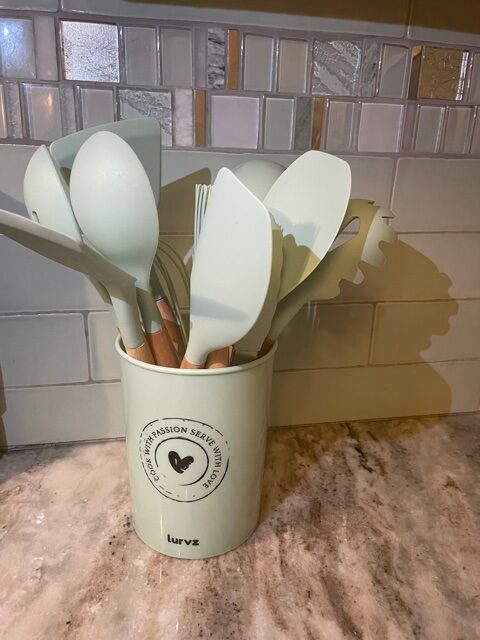 Serving Bowl:
Did you notice the pretty bowls featured in this recipe? I got them from Sweese.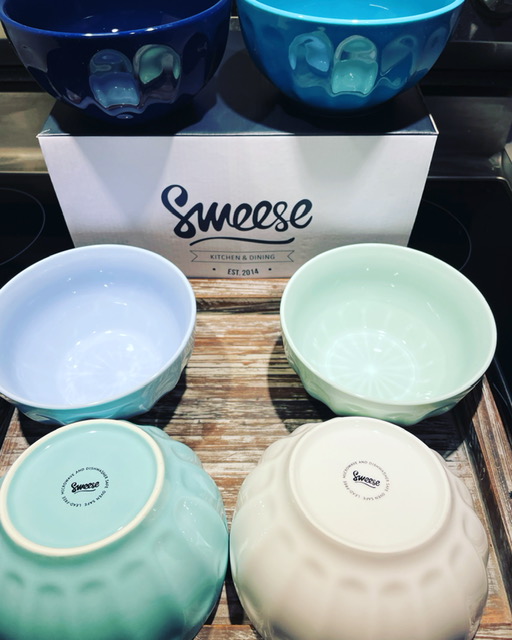 Summary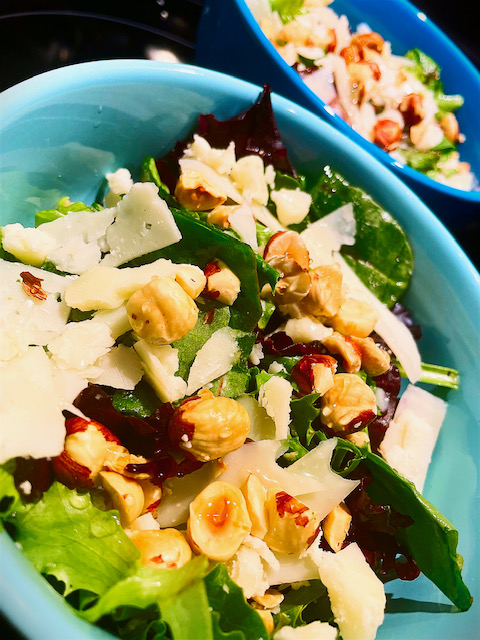 Recipe Name
Manchego Cheese Spring Mix Salad
Author Name
Published On
Preparation Time
Total Time