One Pot – Quinoa White Bean and Greens Soup
Prep time: 10-15 minutes
Cook time: 40 minutes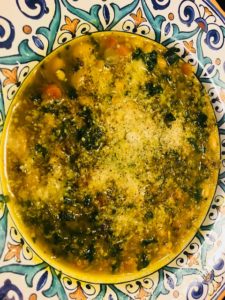 This is a great recipe for Meatless Monday! It is one of my favorite comforting and detoxing vegetarian recipes – it is loaded with power foods and is a good one to make to detox after a weekend filled with fun drinks and guilty foods. It is also great because it is all made in one single pot, which means less dishes to clean! It is delicious, comforting, extremely healthy and flavorful!  It is good for a Meatless Monday meal, because you will likely have leftovers to use for some lunches throughout the week.
Ingredients:
2 T olive oil
1 yellow onion chopped
2 stalks of celery chopped
½ cup chopped carrots
6 cloves garlic chopped
4 cups chicken or vegetable broth
1 cup water
½ teas salt
½ teas black pepper
½ teas turmeric
¼ teas crushed red peppers
¼ teas dried thyme
¼ cup fresh parsley chopped
½ cup quinoa (uncooked)
15.5 oz can of great northern beans (drained and rinsed)
¼ cup fresh basil chopped
1 cup of chopped kale
1 cup of chopped spinach
Juice of a lemon
Parmesan cheese (for topping, optional)
Directions:
Over medium-high heat in Dutch oven or pot, with the olive oil, sauté onions, carrots, celery for 7 minutes.
Turn down heat to medium, add garlic, and sauté for 1 minute more.
Add broth, water, salt, black pepper, turmeric, crushed red peppers, thyme, parsley, stir, cover with lid and cook for 10 minutes.
Remove lid, add quinoa and beans, stir, cover with lid and cook for 20 minutes.
Remove lid, add basil, kale, spinach and cook for 2-4 minutes.
Add lemon and serve.
Top with some parmesan cheese if desired.
Notes:
You will likely have leftovers. When you store this in the refrigerator, the quinoa will absorb the liquid. To reheat, I recommend adding some water.