This Healthy Pimento Cheese Recipe is delicious and will fulfill your pimento cheese craving in the form of a quinoa salad! Pimento cheese is one of my favorite snacks ever since I discovered it during a trip to Charleston, SC! I always crave it and wanted to come up with a Healthy Pimento Cheese Recipe. In making this recipe, I basically put a lot of the spices that I would include in a pimento cheese dip within the dressing, and incorporated quinoa and a lot of collard greens to give it a healthy boost! Pimento cheese has been on my mind and wanted to enjoy a health version of it. I love this Healthy Pimento Cheese Recipe and know that you will love it too – my fellow Pimento Cheese lovers!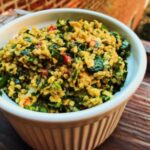 Pimento Cheese and Collards Quinoa Salad
Ingredients
1

cup

quinoa uncooked

1

garlic clove crushed

1

bunch of collard greens finely chopped

1

4 oz jar of diced pimento peppers drained*

1

4 oz sharp cheddar cheese grated**

1

4 oz Monterey jack cheese grated**
Dressing Ingredients:
3

T

extra virgin olive oil

1

T

apple cider vinegar

1

Juice of a Meyer lemon***

A Few

splashes of Frank's hot sauce****

2

teas

Country Dijon mustard*****

2

teas

honey

1/2

teas

sea salt

1/2

teas

black pepper

1/2

teas

hot smoked paprika

1/2

teas

sweet paprika

1/2

teas

onion powder

1/2

teas

garlic powder

1/2

teas

chili powder
Instructions
Cook quinoa according to package directions, but with adding a garlic clove crushed before you put the lid on it to cook.

Let the quinoa cool for at least an hour.

Meanwhile, put all dressing ingredients in a small bowl and whisk until well combined.

When the quinoa has cooled, place the quinoa and salad ingredients in a large bowl and mix.

Then add the dressing to it and mix until well combined.

Place the salad in a storage container and put inthe refrigerator for at least a half hour to marinate before serving.
Notes:
* If you love pimentos, you can always double up and add more!
** You can use all cheddar if you want, and you can also experiment with other cheeses too. I love these cheese choices!
*** You can use a regular lemon if you do not have a Meyer lemon.
**** Frank's hot sauce is my favorite! But you can use a different one if you have your own favorite!
***** If you do not have Country Dijon mustard on hand, you can use spicy brown mustard.
To speed up the cooling of the quinoa, you can pop it in the refrigerator for about 15-20 minutes. Or you can make the quinoa earlier in the day or the day before.
Food Prep:
This is is a perfect make ahead recipe to do on a food prep day. It is perfect for weekday lunches.
Other Recipes:
For another Healthy Pimento Cheese Recipe, also try my Instant Pot Pimento Cheese and Collard Greens Risotto.
Check out some of my other Quinoa Salad Recipes: Greek Quinoa Salad with Feta, Quinoa Tabbouleh, Quinoa Caprese Salad
Misfits Market:
My collard greens came from Misfits Market! If you want to receive amazing organic produce at your door from Misfits Market, you can use my discount code: COOKWME-MB4HQY
Summary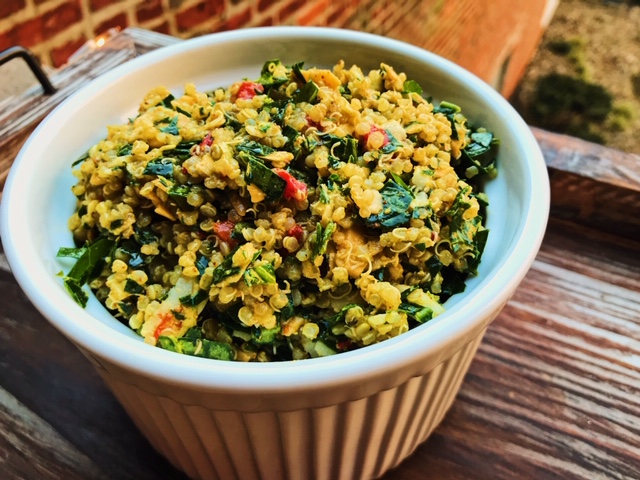 Recipe Name
Pimento Cheese and Collards Quinoa Salad
Author Name
Published On
Preparation Time
Cook Time
Total Time