Spicy Asian Veggie Noodles
Prep time: 15 minutes
Cook time: 15 minutes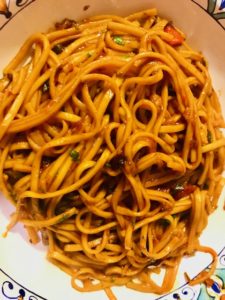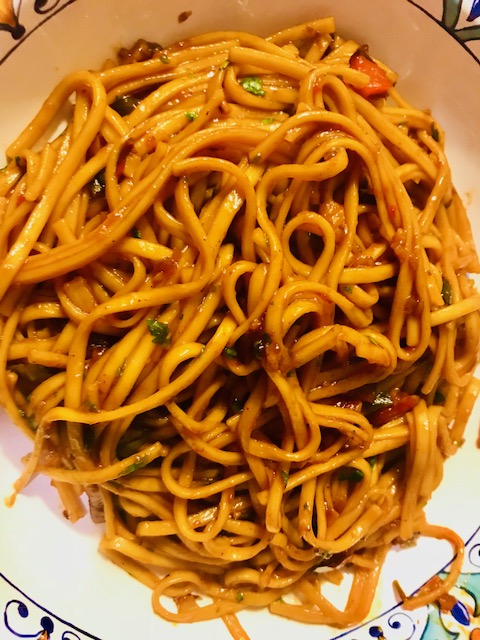 This is one of the best vegetarian recipes that will make you completely forget that there is no meat!  We have yet to find a good Asian take-out place around our area. Sometimes we are really in the mood to order some good Asian noodles. This satisfies that craving, is way better and healthier too! Jimmy loves this one so much he doesn't even believe it is healthy. But of course, it's healthy – it is made with organic wheat noodles and lots of veggies! This is one of my favorites!
Ingredients:
1 large red bell pepper chopped
1 jalapeño pepper chopped
8 cloves of garlic chopped
1 T freshly grated ginger
¼ cup scallions chopped
¼ cup cilantro chopped
1 T vegetable oil (you may need a little more if your wok is not non-stick)
9.5 oz package of Japanese udon noodles (I used Hakubaku organic wheat – I get it at Wegman's) (Cook noodles per package directions)
Sauce Ingredients:
½ cup low sodium soy sauce
1 T hoisin sauce
1 teas chili garlic sauce (I use Wegman's TomTom sauce)
1 teas siracha
1 T brown sugar
1 T cornstarch
1 T rice wine vinegar
Juice of a lime
Directions:
Chop all your veggies (keep separated because you will add them to the wok at separate times)
In a bowl, whisk together all sauce ingredients, set aside
In a non-stick wok, heat up oil for about a minute on medium high
Add peppers and stir fry for 4 minutes
Then add garlic and ginger and stir fry for 1 more minute
Turn down heat to medium-low and add scallions, and cook for 1 minute
Then add sauce and let simmer for 5-7 minutes (make sure you stir occasionally so it doesn't stick to the bottom)
Add noodles to the wok and stir until well combined
Then add cilantro and stir
Notes:
Make sure that you prep all the veggies and make sauce first! The cooking goes quick and there is not enough time to chop while you cook! You can cook the pasta during the process if you time it right; you can drop it in the boiling water while the sauce is simmering.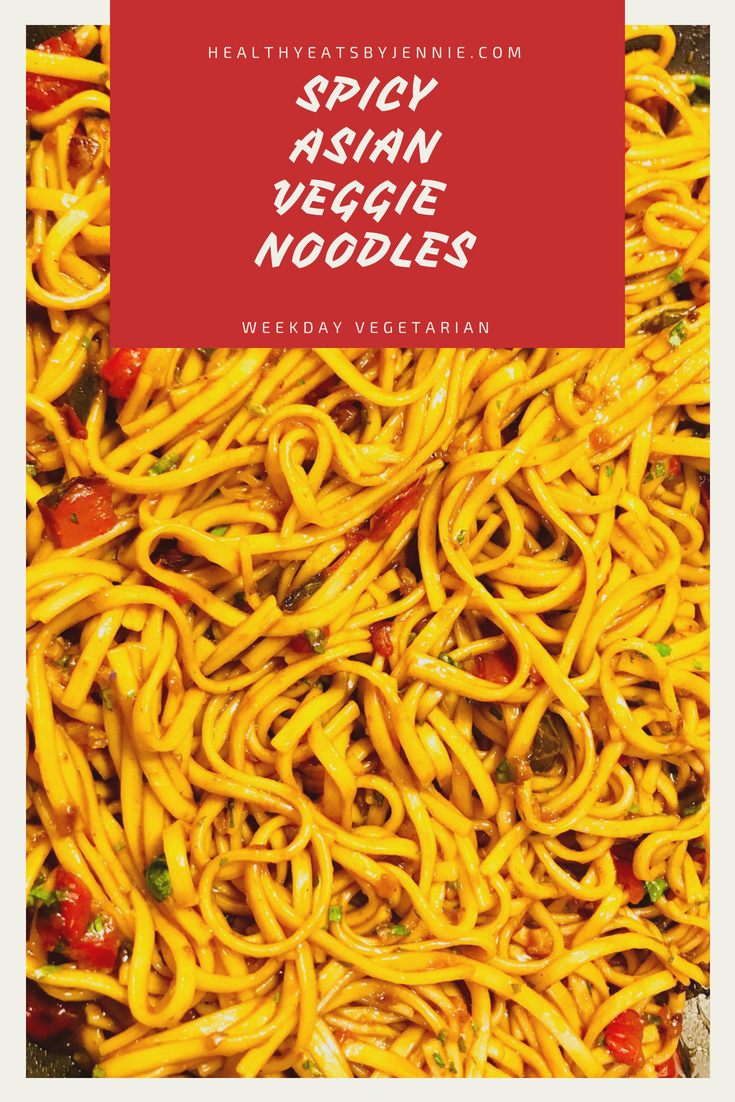 Summary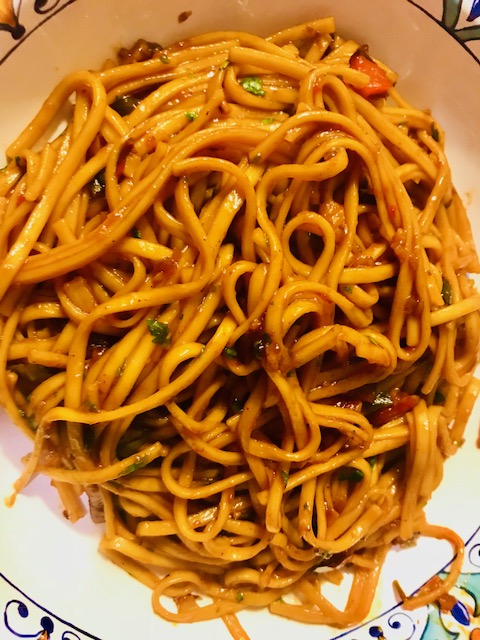 Recipe Name
Spicy Asian Veggie Noodles
Author Name
Published On
Preparation Time
Cook Time
Total Time