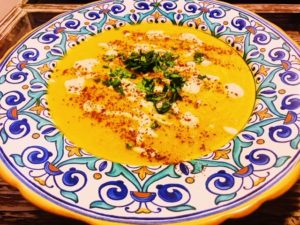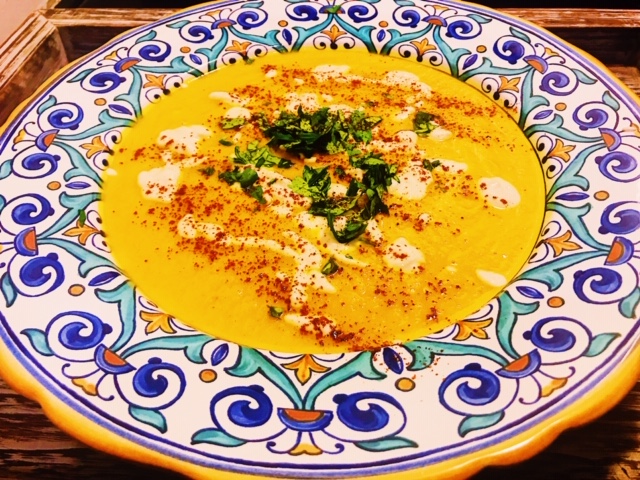 This Sweet Potato Soup Recipe is amazing and healthy too! A lot of Sweet Potato Soup Recipes call for heavy cream and added sugar, which do not align with trying to eat healthy. Instead of adding those unhealthy ingredients, this Sweet Potato Soup Recipe puts a new twist on the traditional flavor by adding coconut milk and Thai green curry. These flavors go perfect together! My sister Becky LOVES Thai Green Curry and Sweet Potatoes – I can't wait for her to try this – I know she will LOVE this Sweet Potato Soup Recipe too!
Soup Ingredients:
2 large sweet potatoes (should be about 3 cups of diced sweet potatoes)
2 leeks chopped (white and light green parts only)
1 red onion chopped
1 cup of carrots chopped
1 cup of celery chopped (about 3 stalks)
2 T olive oil
5 cloves of garlic chopped
2 teas freshly grated ginger
2 T Thai green curry paste
1 13.5 oz can of light/reduced fat coconut milk
4 cups of vegetable broth (or chicken)
1 teas turmeric
½ teas salt
¼ teas black pepper
Optional Toppings: chili powder, chopped cilantro, cashew lime cream (see directions below).
Cashew Cream Ingredients (optional):
1 cup of raw cashews (soaked in water for 3 hours)
Juice of a lime
1 garlic clove
¾ cup water
½ teas salt
Soup Directions:
At 400 degrees, roast sweet potatoes (toss them halfway through) for 20-25 minutes until the potatoes are cooked (where you can easily stick them with a fork).
Meanwhile, in a Dutch oven or stock pot, with 2 T of olive oil over medium high heat, sauté leeks, onions, carrots, and celery for 10 minutes.
Turn down to medium heat, add garlic, ginger and green curry paste and sauté for another 1-2 minutes.
Add coconut milk, vegetable broth, turmeric, salt, black pepper and stir.
Turn heat up to high to bring to a boil, and then reduce heat back down to medium-low and simmer for 15 minutes covered.
Remove lid and add sweet potatoes.
Blend with immersion blender or transfer to a blender, and blend until smooth and creamy.
Cashew Cream Directions (optional):
Place all ingredients in a food processer and blend until smooth and creamy.
Notes:
You do not need to make / use the cashew cream, but it is delicious!
If you are in the mood for Sweet Potatoes, but are not in the mood for soup, maybe try one of my other Healthy Sweet Potato Recipes: Roasted Sweet Potato, Red Pepper, Kale Bowls with Tahini Sauce or Thai Green Curry with Veggies and Roasted Sweet Potatoes.
Summary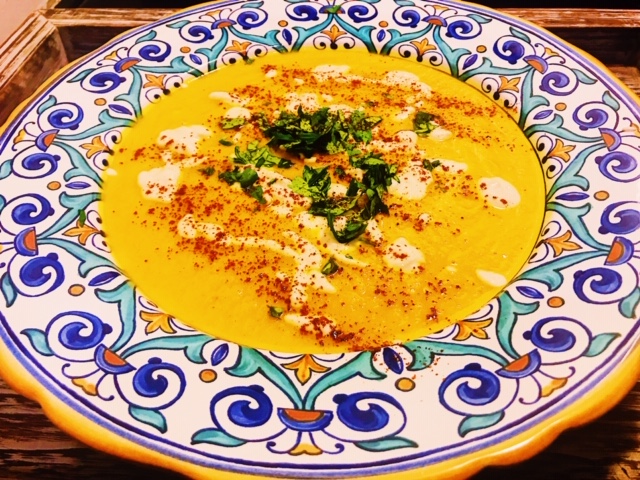 Recipe Name
Sweet Potato Soup with Leeks, Coconut Milk and Thai Green Curry
Author Name
Published On
Preparation Time
Cook Time
Total Time