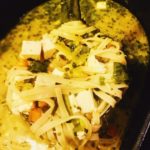 Miso Veggie Noodle Soup
I needed to make a Healing Soup Recipe, because I had a case of heartburn from too much fun over the weekend. I find miso soup to be quite comforting, so I decided to make a variation of my Miso Soup with Veggies and Quinoa recipe and turn it into a Healing Soup Recipe. I upped the amount of carrots, tofu, garlic, added some ginger, and swapped out the quinoa for some noodles. Since I was using noodles, I increased the amount of liquid and miso. This turned out to be the perfect Healing Soup Recipe version of miso soup! It reminded me of how chicken noodle soup used to make me feel as a kid – but this is planted based and healthier! I will absolutely make this healing soup recipe again and again, especially if I am feeling under the weather or if the weather outside is chilly!
Ingredients
2

T

olive oil

1 ½

cup

chopped carrots

1

small red onion chopped

5

cloves

of garlic chopped

1

T

freshly grated ginger

10

cups

of water

2/3

cup

of white miso paste

1

cup

scallions chopped

2

cups

chopped spinach

14

oz

tofu cut in small cubes

7.7

oz

package of brown rice noodles

I used Wegman's brand
Instructions
In a Dutch oven or stock pot, with the olive oil, over medium heat, sauté carrots and onions for 10 minutes.

Then add garlic and ginger and sauté for 2 more minutes.

Add water to the pot, stir, and turn up heat to high.

Then add the miso to the pot and stir (occasionally) for about 5-7 minutes, until the miso has melted in with the liquid.

Once the water has come to a boil, turn the heat down to medium low, cover the pot with a lid, and cook for 20 minutes.

Meanwhile you can cook your rice noodles in a separate pot.

Uncover the pot and add scallions, spinach and tofu and cook (covered) for another 10 minutes.

Then add cooked noodles and cook for 2 more minutes (uncovered).
Recipe Notes
If you are not serving the soup right away, but want to keep the soup warm, turn the burner down to low heat.