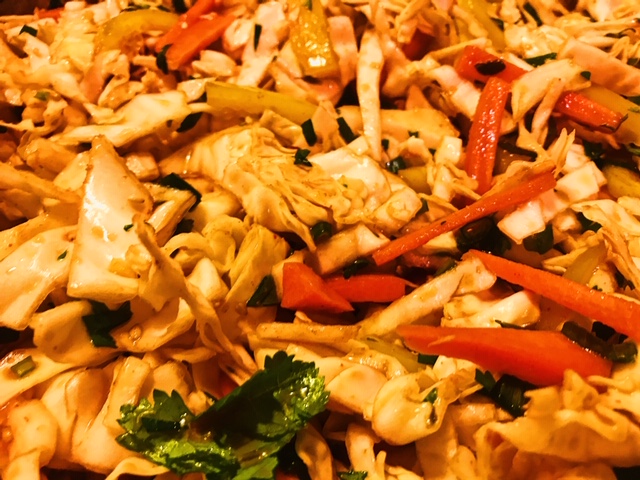 I made this Vegetarian Gochujang Recipe one weekend when we were making some Korean tacos. This Gochujang Slaw is the perfect topping for the tacos. The Vegetarian Gochujang Recipe provides amazing texture and flavor to the tacos! This Vegetarian Gochujang Recipe can be paired with many dishes and is great as a side dish! I love the flavor of Gochujang, and this is a healthy way to enjoy it!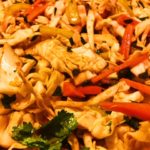 Print
Gochujang Slaw
Ingredients
Slaw Ingredients:
1

head of Napa cabbage julienned / cut into thin short strips

1

carrot cut into matchsticks

1

bunch of scallions chopped

(green parts only)

1

yellow bell pepper cut into thin strips and halved

1

jalapeno pepper chopped

3

red radishes cut into matchsticks

1

Handful of cilantro leaves chopped
Dressing Ingredients:
2

teas

fresh grated ginger

Juice of 2 limes

2

T

gochujang paste

2

T

reduced sodium soy sauce

2

T

honey

2

T

sesame oil

1

T

sesame seeds

4

T

rice vinegar

1/2

teas

sea salt
Instructions
Place all slaw ingredients in a large bowl and mix to combine. read more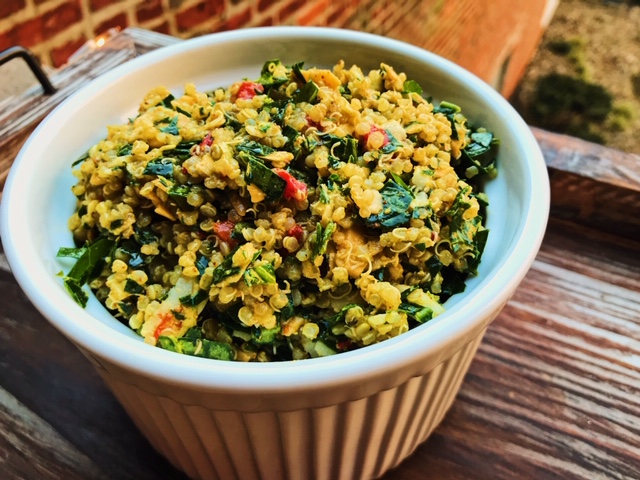 This Healthy Pimento Cheese Recipe is delicious and will fulfill your pimento cheese craving in the form of a quinoa salad! Pimento cheese is one of my favorite snacks ever since I discovered it during a trip to Charleston, SC! I always crave it and wanted to come up with a Healthy Pimento Cheese Recipe. In making this recipe, I basically put a lot of the spices that I would include in a pimento cheese dip within the dressing, and incorporated quinoa and a lot of collard greens to give it a healthy boost! Pimento cheese has been on my mind and wanted to enjoy a health version of it. I love this Healthy Pimento Cheese Recipe and know that you will love it too – my fellow Pimento Cheese lovers!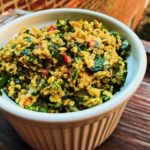 Print
Pimento Cheese and Collards Quinoa Salad
Ingredients
1

cup

quinoa uncooked

1

garlic clove crushed

1

bunch of collard greens finely chopped

1

4 oz jar of diced pimento peppers drained*

1

4 oz sharp cheddar cheese grated**

1

4 oz Monterey jack cheese grated**
Dressing Ingredients:
3

T

extra virgin olive oil

1

T

apple cider vinegar

1

Juice of a Meyer lemon***

A Few

splashes of Frank's hot sauce****

2

teas

Country Dijon mustard*****

2

teas

honey

1/2

teas

sea salt

1/2

teas

black pepper

1/2

teas

hot smoked paprika

1/2

teas

sweet paprika

1/2

teas

onion powder

1/2

teas

garlic powder

1/2

teas

chili powder
Instructions
Cook quinoa according to package directions, but with adding a garlic clove crushed before you put the lid on it to cook. read more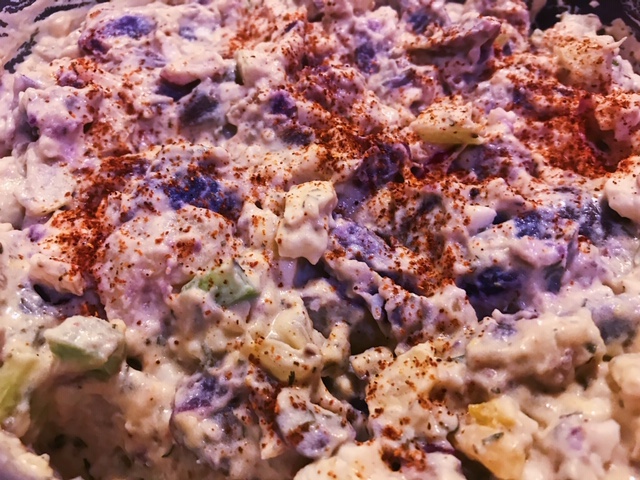 I have never had tried Purple Potatoes until I received some in my Misfits Market delivery. Now, I love them! Purple Potatoes are pretty, colorful and they taste very similar to red potatoes. One weekend, we were making some sandwiches and wanted some potato salad as a side dish, so I decided to experiment with the Purple Potatoes. This Purple Potato salad turned out amazing and I know you will love them as much as we did! It would be a great dish to bring to a picnic, barbecue or an outdoor party!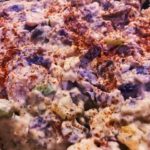 Print
Purple Potato Salad
If you have some Purple Potatoes on hand, try this Purple Potato salad! It is amazing and I know you will love them as much as we did! read more
Copyright © 2020 Healthy Eats by Jennie