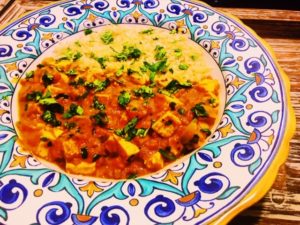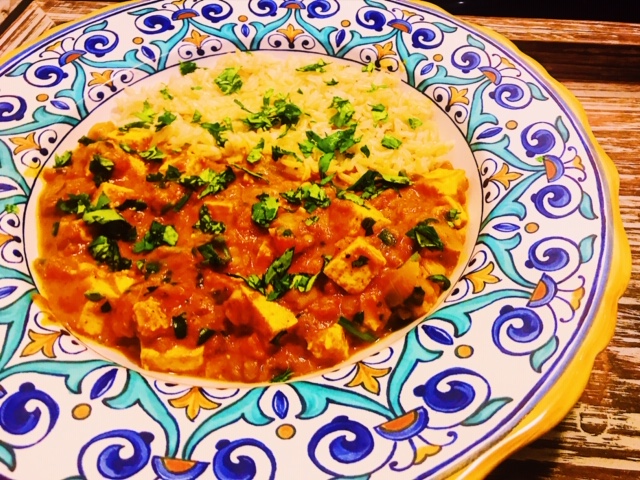 I love Indian food and my all-time favorite Indian dish of all time is Chicken Tikka Masala! The place that makes it the best is New Delhi restaurant in University City. It is extremely delicious! Now, that I moved to Old City, I miss having easy access to that place. Chicken Tikka Masala is probably not a healthy eat, but I have a craving for Indian food! I am determined to make a Healthy Vegetarian Indian Recipe! I wanted to try to create a Healthy Vegetarian Indian Recipe version of Chicken Tikka Masala to fill this void and satisfy my craving.  This Healthy Vegetarian Indian Recipe came out great – it is an amazing flavor explosion and fulfills this craving! I will be making this again for sure and will also attempt different versions of this Healthy Vegetarian Indian Recipe in the future!
Ingredients:
2 T olive oil
1 red bell pepper chopped
1 sweet onion chopped
6 cloves of garlic chopped
1 T freshly grated ginger
1 28 oz can of crushed tomatoes
1 15.5 oz can of chick peas drained and rinsed
1 13.5 oz can of reduced fat coconut milk
½ cup lentils
1 4 oz can of fire roasted diced green chilis
2 T of tomato paste
3 teas garam masala
2 teas turmeric
1 T ground coriander
½ teas cardamom
2 teas salt
1 teas cumin
1 teas chili powder
Juice of a lemon
2 teas agave nectar
¼ cup of chopped cilantro (leaves and stems)
14 oz of extra firm tofu cut into small cubes
2 cups of spinach
Extra chopped cilantro for topping
Serve with Rice or Pita or Nan
Directions:
In a Dutch oven or stock pot, over medium heat, sauté onions and peppers with olive oil for 10 minutes.
Add garlic and ginger and sauté for 2-3 minutes more.
Turn heat down to medium low and add crushed tomatoes, chick peas, coconut milk, lentils, green chilis, tomato paste, garam masala, turmeric, coriander, cardamom, salt, cumin, chili powder, lemon juice, agave nectar and cilantro – stir well.
Cover and simmer for 20 minutes.
Add tofu and simmer for 30 minutes more.
Add spinach and stir, and cook for 2 minutes until spinach is wilted.
Notes:
Feel free to reduce the amount of tofu (or omit if you are not a tofu fan) and substitute more veggies.
If you are in the mood for Tofu but are maybe not in the mood for Indian Food, check out a few of my other recipes that use tofu: Miso Veggie Noodle Soup or Miso Soup with Veggies and Quinoa.
Summary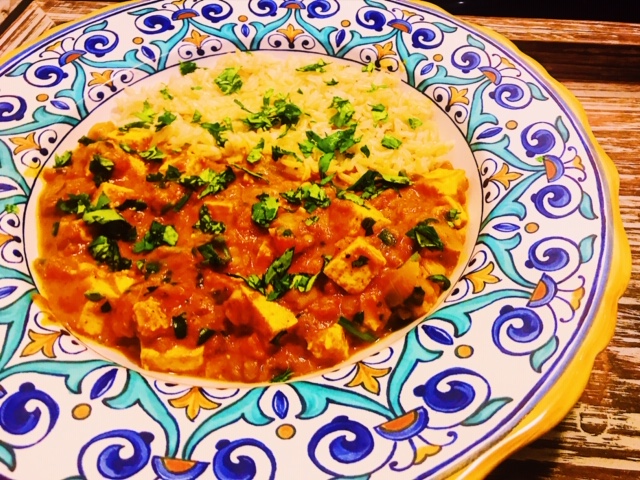 Recipe Name
Author Name
Published On