Print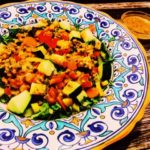 Kale and Quinoa Salad with Spicy Thai Peanut Dressing
I wanted to get into making more salads with Oil Free Salad Dressing. In thinking of other dressings and dips that are oil free that I have made before, the delicious and flavorful dipping sauce I used in my Roasted Broccoli with Spicy Thai Peanut Dipping Sauce recipe came to mind. I transformed the dipping sauce in that recipe to a bold and flavorful Oil Free Salad Dressing. This salad is awesome with this spicy and tasty Oil Free Salad Dressing!
Salad Directions:
Begin by cooking your quinoa (according to package directions).

Then start making your dressing (See below for Dressing Directions).

Once quinoa is done, divide quinoa into 2 salad bowls.

Then top each with all remaining salad ingredients.

Drizzle each salad bowl with 1 T of the dressing (or more to taste, you can also serve some dressing on the side). Each individual can then add more dressing as needed, and mix ingredients together within their own bowl.
Dressing Directions:
Place all dressing ingredients in a medium-sized mixing bowl and whisk together until well blended.
Dressing can be made ahead (on a food prep Sunday) to save time to have a quick meal on a busy week night; this will keep well for a few days in the refrigerator. This dressing can be spicy to some who do not like spicy; you can always reduce the amount of sriracha or omit depending on your spice tolerance (or of course add more if you like spicy). The above salad makes 2 servings, but the dressing makes more, so you could use the dressing on another day for more of this salad or some other salad variation.