Prep time: 20 minutes
Cook time: 10 minutes
This is one of those better than take-out vegetarian recipes! Jimmy will usually put soy sauce on any Asian dish and said that he didn't need to put any soy sauce on this because it was perfectly flavored!  We have been searching for a great take-out Chinese restaurant around where we live in Philly but haven't been successful yet. This dish satisfies that Chinese take-out fried rice craving!
Ingredients:
3 cups cooked brown rice
2 T vegetable oil
1 Egg
Veggies
o  1 red onion chopped
o  1 cup carrots chopped
o  5 cloves garlic chopped
o  2 T grated ginger
o  ½ green onions chopped
Sauce
o  1/3 cup reduced sodium soy sauce
o  1 T rice wine vinegar
o  1 T hoisin sauce
o  1 teas siracha
Prep (prior to wok cooking)!:
Be sure you have your rice cooked
Cut up all veggies prior to cooking (keep each separated, since added at different times)
In a small bowl, whisk all sauce ingredients (see aside)
In a separate bowl, whisk the egg (set aside)
Directions:
In a non-stick wok, over medium high heat with vegetable oil – begin with sautéing red onions for 2 minutes
Add carrots, sauté for 2 minutes
Add garlic and ginger, sauté for 1 more minute
Add rice – combine and pat flat – let cook undisturbed for 1 minute, then mix up and repeat for another minute, and then mix up and repeat for another minute
Add sauce and stir until combined
Add egg and cook for 2 more minutes (stirring constantly)
Add green onions and combine
Notes:
A lot of fried rice recipes calls for frying the egg separately and then adding to the wok.
A tip that I learned from my brother-in-law (John Thiry) is to put in the egg toward the end within the rice (in the wok). The wok is so hot by this point, the egg will cook, and provides a nice consistency for the rice. I follow this tip whenever I do any fried rice!
If you want to keep this truly vegetarian, you can always leave the egg out.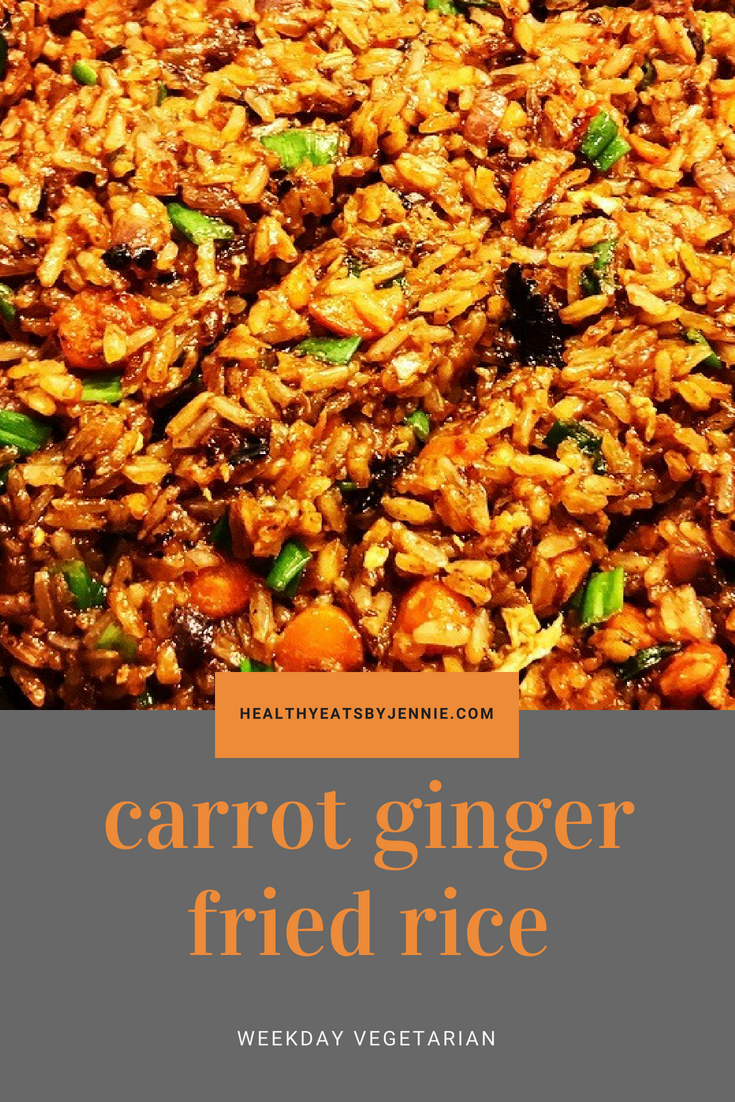 Summary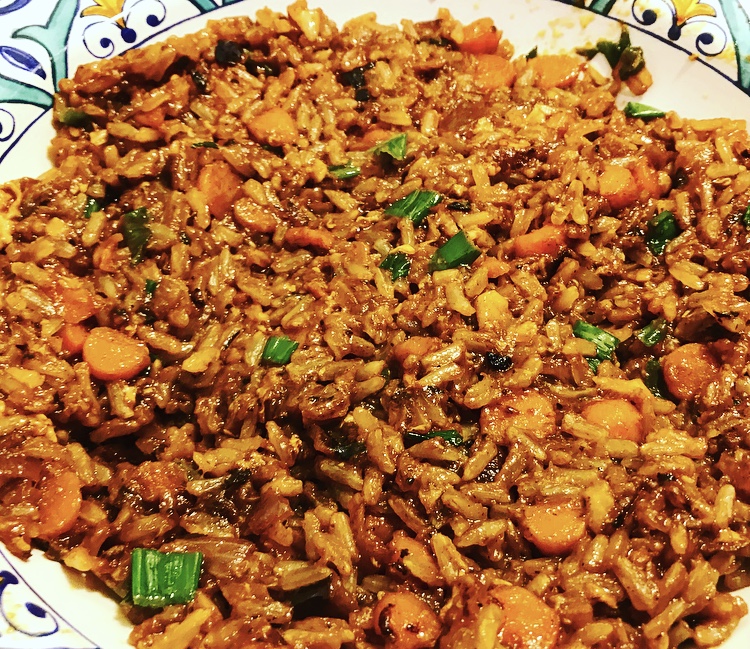 Recipe Name
Author Name
Published On
Preparation Time
Cook Time
Total Time