Roasted Zucchini Red Pepper Garlic Dip
Prep time: 10 minutes
Cook time: 1 hour 10 minutes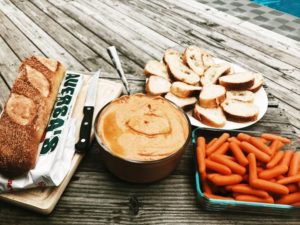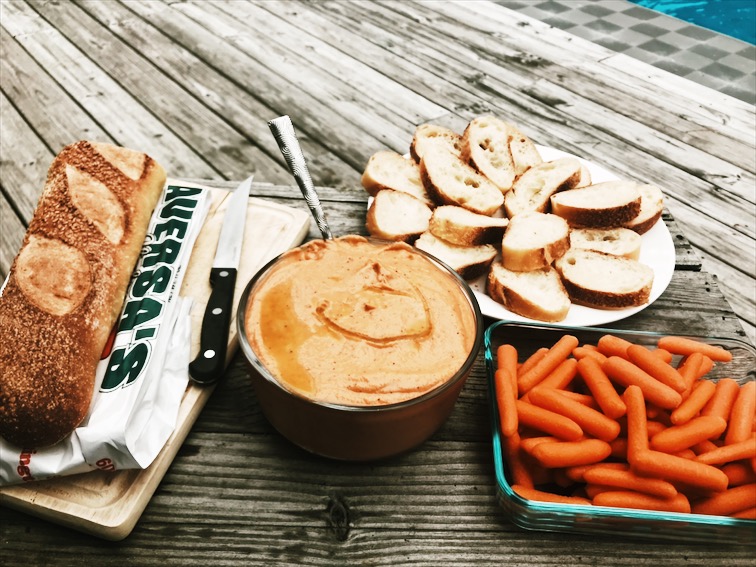 For a while, I have been wanting to try to recreate this Healthy Dip Recipe! There is a cozy Italian BYOB in Old City Philadelphia called La Locanda Del Ghiottone, and at the beginning of the dinner, they give you this amazing zucchini red pepper dip with warm Italian bread. I honestly could just eat it with a spoon! We went last month for our pal Stacy's birthday, and I couldn't wait to try to make it at home while the flavor is fresh in my memory. (This restaurant also has the best gnocchi by the way!)  Last weekend, our friend Simon had a party down at the Jersey Shore, so this was the perfect time to try it out for a crowd. It was a success – not a drop left! We paired it with this amazing bread from Aversa's bakery in Brigantine, NJ!
Ingredients:
Baking Phase:
3 extra-large zucchinis peeled, cut in quarters longways and then cut in half (wide-wise)*
2 red bell peppers cut in thick strips
3 T olive oil
1 teas salt
1 teas black pepper
Vitamix / Blender Phase:
3 T tahini
2 garlic cloves
Juice of 2 lemons (yielding 4 T lemon juice)
1 T olive oil
½ cup water
1 teas salt
½ teas black pepper
Directions:
Preheat oven to 450.
In a large mixing bowl, combine zucchinis, peppers, olive oil, salt, and black pepper.
Spread evenly the contents of mixing bowl in a baking sheet sprayed with cooking spray.
Place baking sheet in oven, cook for 20-35 minutes until the zucchinis are soft (depending on how large your zucchinis are, cooking times may vary – you will know they are done when you can easily stick a fork into it).
When cooking is done, remove pan from oven, and let cool for about 20 minutes.
Cut up zucchinis in smaller pieces, and place in blender along with red peppers and all blender phase ingredients, and blend until smooth.
Notes:
*The zucchinis I got were huge, so I only needed 3. But if you have medium sized ones you may need to use 4-5 and cooking time may be less if they are not that thick.
*I used the Vitamix to make this recipe. The Vitamix is perfect and amazing for making dips like this and hummus! If you don't have a Vitamix, a regular blender or a large food processor should work just fine.
You can serve with veggies, bread, pita chips, or use as a spread on a sandwich.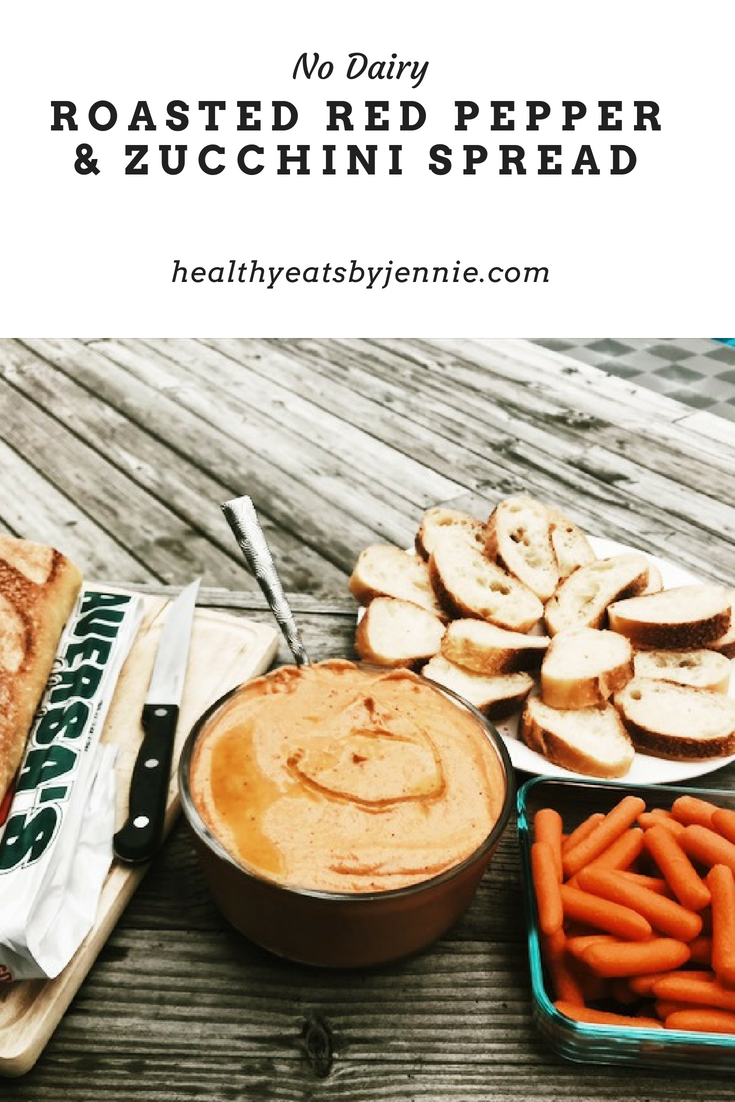 Summary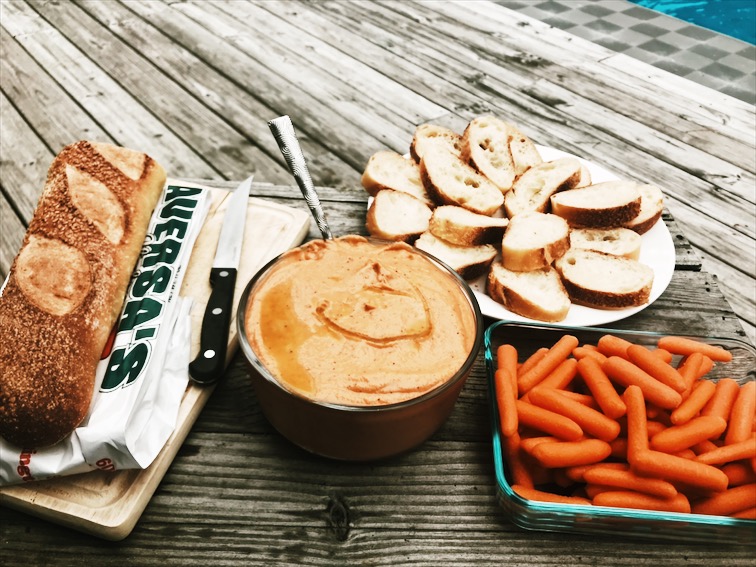 Recipe Name
Roasted Zucchini Red Pepper Garlic Dip
Author Name
Published On
Preparation Time
Cook Time
Total Time