This Loaded Potato Salad is perfect for serving at a summer cookout! It is exciting and not the same old potato salad. I love loaded baked potatoes and twice baked potatoes, but no one wants to eat that hot heavy dish at a summer cookout. This Loaded Potato Salad incorporates the flavors of those savory dishes and makes a cool and flavorful summer salad.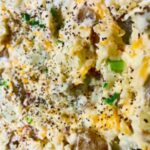 Loaded Potato Salad
This Loaded Potato Salad takes the flavors of loaded baked potatoes and makes a cool flavorful salad that is perfect to serve at a cookout.
Ingredients
Salad Ingredients:
6

pieces of bacon (cooked and chopped) *

5

lbs

russet potatoes

3

teas

salt

1

Bunch of scallions chopped (green parts and some white parts)

8

oz

block of sharp cheddar cheese shredded
Dressing Ingredients:
2/3

cup

mayo

2/3

cup

sour cream

½

teas

coarse black pepper

½

teas

sea salt

1

teas

garlic powder

½

teas

onion powder

1

teas

Worcestershire sauce

2

T

white vinegar
Instructions
Fill a stock pot with water and dice the potatoes in 1/2-inch cubes (leaving the skin on), putting the potatoes in as you are cutting them.

When you are through with cutting the potatoes, make sure they are fully covered with water and add the salt.

Bring water pot with potatoes to a boil over high heat.

When it comes to a boil, boil for about 10-15 minutes. **

When the potatoes are done, drain and let cool.

Meanwhile, in a small bowl, mix all dressing ingredients.

When the potatoes have cooled, put in them a large mixing bowl along with scallions and bacon, and combine.

Then add dressing and combine.

Then add cheese and combine.

If the salad is too dry you can add some more sour cream and mayo.

Sprinkle with some more coarse black pepper to taste (optional).

Let cool in the refrigerator for at least an hour before serving.
Loaded Potato Salad Recipe Notes:
Ingredient Notes: *
* When cooking bacon, I always bake it. I bake it at 400 for around 14-20 minutes. For regular cut bacon, it usually takes 14-15 minutes, and for thick cut bacon, that usually takes 20 minutes.
Notes for Instructions: *
** At 10 minutes, check on the potatoes. You want to be able to easily slide a fork through them. But don't overcook them to the point they are falling apart. Timing may vary depending on the size of your diced potatoes and size of your pot.
Pairings:
This Loaded Potato Salad would be a great addition for a cookout / BBQ.
Food Prep:
This Loaded Potato Salad is great to make a head of time and perfect for bringing / serving at a party.
Other Recipes:
These other recipes are also great options to bring / serve at a cookout / BBQ:
Pimento Cheese and Collards Quinoa Salad
Summer Corn Cucumber Tomato Peach Salad
Misfits Market:
Most of my produce that I use in my recipes are organic and from Misfits Market.
If you want to receive amazing organic produce at your door from Misfits Market, you can use my discount code: COOKWME-MB4HQY
Nutr:
This Nutr machine makes fresh nut milk! I usually use almond milk in my smoothies every day and with this machine, I can easily make fresh almond milk. This machine can make nut milk with any type of nut so I am super excited to make a bunch of nut milk variations!
Visit Nutr's website and use my discount code to get your own! JENNIE10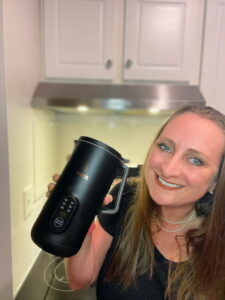 Javy Coffee:
I just love iced coffee, especially on hot summer days! Typically, iced coffee or cold brew can be expensive to buy or difficult to make. With Javy Coffee, its super quick, easy and affordable! And it tastes so delicious!
Visit Javy's website and use my discount code: JENNIFER09877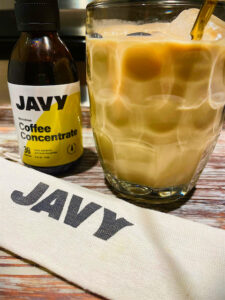 Summary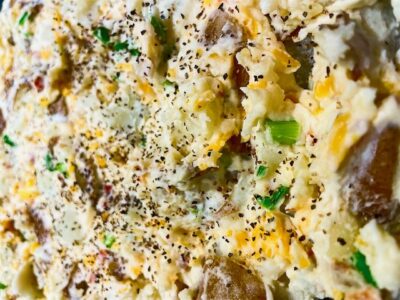 Recipe Name
Author Name
Published On
Preparation Time
Cook Time
Total Time