MistfitsMarket sent me a lot of mushrooms in one of my organic produce deliveries.  I thought, why not include them in a Risotto Recipe?!?! I was also in the mood for a Cheese Steak. I then decided to make a Risotto Recipe that fulfills that Cheese Steak craving. Since I live in Philly, I know how amazing Cheese Steaks are! But I can't seem to come to calling this a cheese steak recipe when there isn't any steak, therefore I am calling this Risotto Recipe – Philly Cheese 'Shroom!  This is one of my favorite Risotto recipes, and I think that this may be yours too once you try it! When I tried it, my mind was blown on how amazing it was!
Instant Pot Philly Cheese 'Shroom Risotto
Ingredients
2

cups

sweet Vidalia onion chopped (could also use yellow or white)

1

cup

Green bell peppers chopped

2

cups

mushrooms chopped

2

T

olive oil

1

teas

black pepper

1

teas

salt

6

cloves of garlic chopped

1/2

cup

cherry peppers chopped (from a jar)

2/3

cup

dry white wine (I used 1/3 pinot grigio and 1/3 sherry)

1 1/2

cups

Arborio rice

4

cups

vegetable or chicken broth

1

teas

soy sauce

2

teas

Worcestershire sauce

1

teas

oregano

1

8 oz Monterey jack cheese shredded (reserve a little for topping if desired)

1/4

cup

Parmesan cheese grated

Sriracha ketchup

(optional)
Sriracha Ketchup Ingredients: • 6 oz can tomato paste • ½ cup apple cider vinegar • 2 T maple syrup • 1 teas salt • ½ teas black pepper • 1 teaspoon onion powder • 1 ¼ teas garlic powder • 3 teas siracha • 2 teas yellow mustard • ¼ cup water
Instructions
Set Instant Pot to sauté, and sauté onion and peppers with olive oil, ½ teas salt and ½ teas black pepper for 5-7 minutes.

Add mushrooms and sauté for 4 more minutes (add more olive oil if you need to).

Add garlic and sauté for 1 minute more (add more olive oil if you need to).

Add white wine, and sauté for 1 minute more.

Add rice, stir to combine, and sauté for 1 minute more.

Add 3 ¾ cups of the broth, cherry peppers, soy sauce, Worcestershire sauce, oregano and stir to combine.

Place lid on and set vent to seal.

Set Instant Pot to manual for 6 minutes (will take about 10-15 minutes to come to pressure).

Meanwhile, shred your cheese, and make the Sriracha ketchup (if you decide to go for the homemade Sriracha ketchup – just put all the Sriracha ketchup ingredients in a small mixing bowl and whisk/stir until well combined).

When Instant Pot timer is complete, quick release.

Remove lid and add ¼ cup of broth and stir until well combined.

Add Monterey and Parmesan cheese, ½ teas black pepper, ½ teas salt and stir well.


Serve in bowls with a little extra cheese on top and a drizzle of Sriracha ketchup if desired.

Did you know how easy it is to make your own ketchup? Once you try it, you may never go back! It is also much healthier for you too, since it doesn't contain all that extra sugar/corn syrup. Of course, you can use some store bought Sriracha ketchup, or you can combine Sriracha with some store bough ketchup too.
Try this or another one of my Risotto recipes on a food prep Sunday for some weekday meals. When I make one of my Risotto Recipes on a food prep Sunday, I can enjoy it ALL week for my lunches (or dinners), as this makes around 5 hearty servings.
Here are some of my other Instant Pot Risotto Recipes: Instant Pot Pimento Cheese and Collard Greens Risotto, Instant Pot Spinach and Artichoke Dip Risotto, Instant Pot Broccoli Cheese Risotto, Instant Pot Zucchini Risotto, and Instant Pot Mushroom Risotto with Spinach, Manchego Cheese and Cilantro Lime Crema .
Summary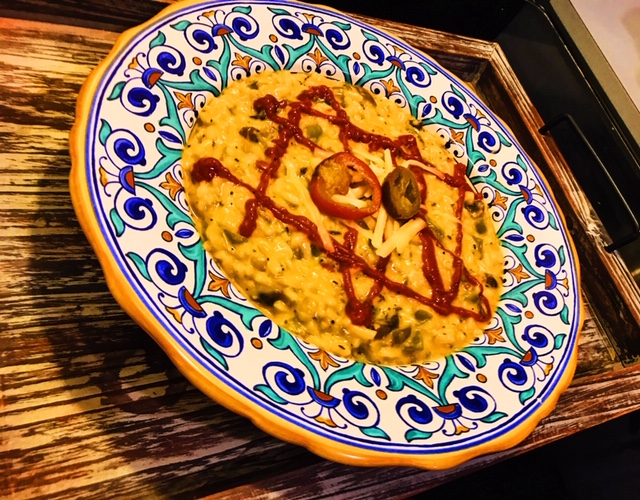 Recipe Name
Instant Pot Philly Cheese 'Shroom Risotto – Risotto Recipe | Healthy Eats by Jennie
Author Name
Published On
Preparation Time
Cook Time
Total Time